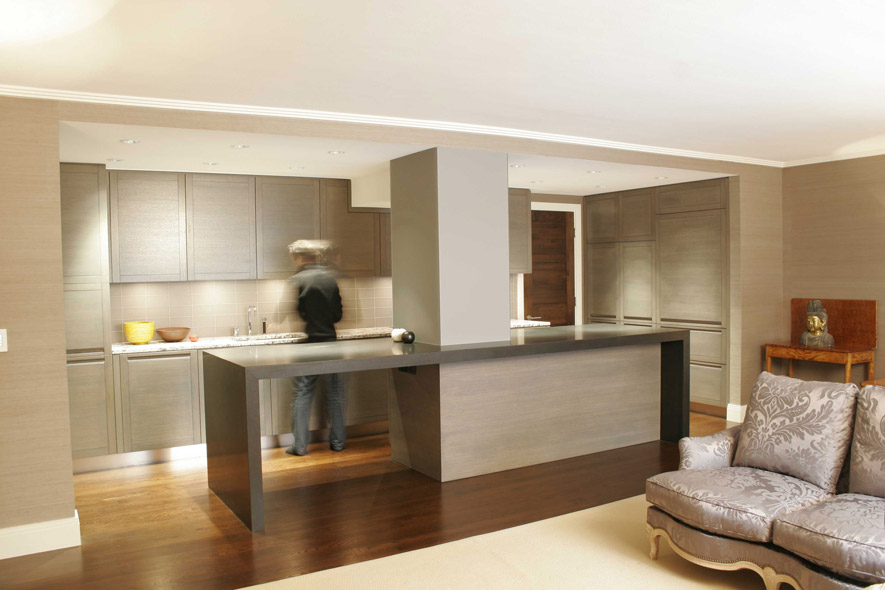 1325 N. State Parkway Apt. 9F | Chicago | 60610
Architecture: Daniel Tornheim Architect
Built 2009, 2 bedroom, 2 bathroom, 1000 square feet
This condominium is on the 9th floor of an existing building located in the heart of the Gold Coast Chicago and has spectacular views overlooking the West side. The building was built in the 1960's and was originally a long-stay annex for an adjacent hotel. It is now the Public Hotel that was recently renovated along with the infamous Pump Room Restaurant.
Architect Daniel Tornheim was asked by the client to design a new walk-in closet in because of the lack of storage space. After careful consideration and a few design suggestions, the entire condominium was renovated minus the existing bathrooms. This gave the client an opportunity to build a dream living space without compromise. A transitional/contemporary style with art deco detailing was chosen to compliment the client's aesthetics and also work with the existing architecture of the building. The kitchen was opened up the living room and the dining room as eliminated to allow for a larger living space. A home office with sliding walnut doors was located off of the main hall. These doors have reeded glass that provides privacy while allowing natural light to filter into the interior. And yes a new walk-in closet was located off of the new master bedroom complete with built-in closet millwork.
The general contractor, Cezar Osiecki of Highland Developer's Inc., was hired for the construction. Frank Perry of Frank S. Perry Residential Interiors, Inc. was hired as the interior designer for finish and furniture selections. A very limited amount of time was available for the construction schedule because the client was going to be moving back from Paris and needed the condo finished. Construction was completed in 3 ½ months and the client never saw any of the new work firsthand until she moved back in after construction was completed.
We are all very pleased with the result of everyone's hard work on the project. It serves as a good example of thoughful design and high quality construction of an existing condominium.
Photography by Daniel Tornheim Architect