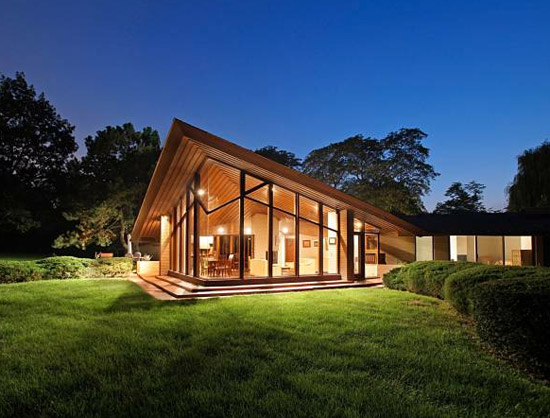 871 Braeburn Rd. | Inverness | 60067
Architect: Don Erickson
Offered by: Chris Jacobs, The Pinnacle Group Century 21
Built approx. 1952; 4-bedroom, 3-bath, 2650 square feet
Mid-century modern.
The house was designed by Don Erickson who worked  as an apprentice under Frank Lloyd  Wright for three years at both Taliesin West and Wisconsin. It was built for Don's father, Gunnar Erickson, a cabinet maker who made the mahogany cabinets lining the front hallway in the house in the tradition of the Wright "Usonian" homes.
The house is a "forever young" true example of Wright's concept of "organic architecture." The design maximizes space and light while at the same time creating the illusion of being outdoors at almost any place in the house. The house features Wright's trademark horizontally raked mortar joints both inside and out, 15′ foot high diamond cut windows in the great room, and lap-straked redwood plank ceilings which are arranged to form angular designs. In fact all three fire places as all of the rooms are of angular design. According to Don, when he first showed Wright the plans, Wright said the design is mine, your father owes me a fee. This was the highest compliment Wright could have given. The Erickson house is a good example of the "Romanza" period homes that Wright designed in the 1950′s.
Images by Kevin Jacobs.