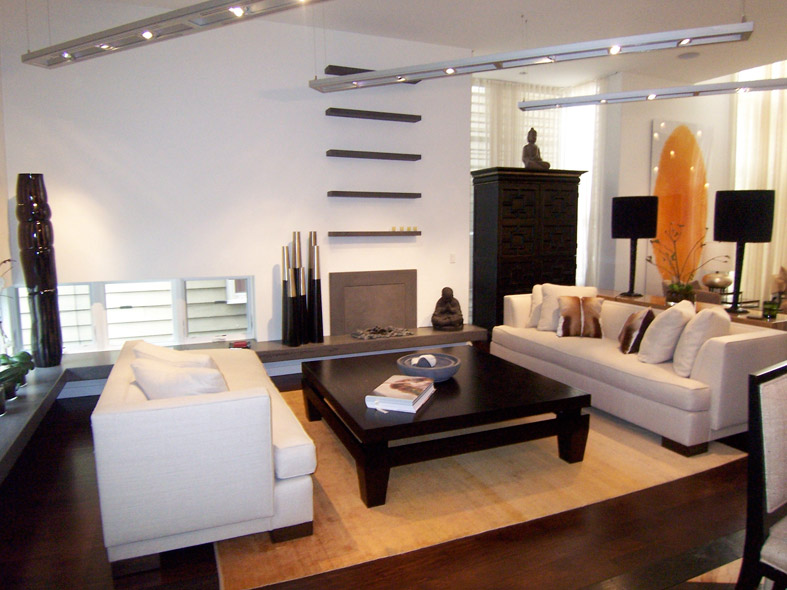 1856 N. Fairfield Ave. | Chicago | 60647
Offered by: Nikki Dumas of Dumas and Associates Realty
Architecture: Bruce Obora
Design by: Studio Modernista, LLC

Built 2008, 4 bedroom, 4 bathroom, 3900 square feet, Listing Price: $1,349,000, Available for lease (fully furnished): $9,000/month
This 4,000 sq. ft. contemporary West Bucktown head turner is situated on an over-sized lot filled with all of the high end finishes that any home owner would love all while only being footsteps away from the up and coming Bloomingdale Trail, Chicago's biggest new outdoor enhancement in years!
As you enter the home, you walk into a slate foyer with a 30′ wall of flagstone that is sure to wow!   Cut outs in the ceiling allow for light to pour in from the skylights and a towering wall of windows makes for an even more sun-filled and dramatic entrance.
The great room space consists of two sitting areas and an elevated dining room with a custom made rhomboid spalted maple and ebony dyed floor that is definitely worth seeing.  A natural fuel burning fireplace sits adjacent to one of the sitting areas built into a custom poured concrete installation from one of Chicago's finest: Custom Concrete.  Custom Concrete is also featured in the main level bathroom sink.  The soaring ceilings in the great room lead to a more traditional 10′ ceiling in the dining room creating dimension and depth.  Lighting throughout the house is all custom all the way down to the stainless steel cans that are rarely seen in homes at this price-point.  As you leave the great room and dining room you enter into the homes magnificent kitchen.
The kitchen is the home designers fairy tale dream come true and was brought to life by Clive Christian Kitchens and Birger-Juell floors.  It is a one of a kind fantasy that is filled with Viking and Sub-Zero appliances that every gourmet chef will love!  It is the heart of the home and makes every guest feel like they are one of the family.
The first floor is completed with an office space that could easily be converted into a guest bedroom with ensuite bathroom.
The lower level of the home consists of a home gym with mirrored walls and booming sound system to keep you motivated while getting your cardio in for the day.  It also features a second laundry room with Whirlpool oversized washer and dryer.  The two car garage is one of only a very few in the West Bucktown area where you pull down into your own private and secure space.  A "mud-room" of sorts is also part of the lower level as is a glass-tiled full bathroom with shower and a small well garden space where you can spend some time reflecting if the mood strikes you.
The second level of the home features 3 bedrooms including the oasis like master retreat.  From the contemporary all glass sliding closet system to the Juliet Balcony, this master bedroom offers everything you need for your own private get away.  The over-sized jacuzzi tub and the double shower allows you to pamper yourself whenever you just need that little extra moment of relaxation in your day.  An additional LG washer and dryer are hidden behind the doors of the closet system.  The second and third bedrooms offer space and luxury and privacy for your guests or family.  A separate TV sitting area is nestled between the two guest bedrooms.
The penthouse is where you can really wow your guests if you haven't already blown them away with the rest of the house.  The expansive roof deck is big enough to hold a party of 100 and is also the perfect place to catch some rays or have a great conversation with family and friends.  The custom built all Trex deck will stand the test of time and need no maintenance to survive harsh Chicago winters.  With over 1,000 sq ft. of outdoor space this home offers 4 different spots to get outside and get some fresh air.