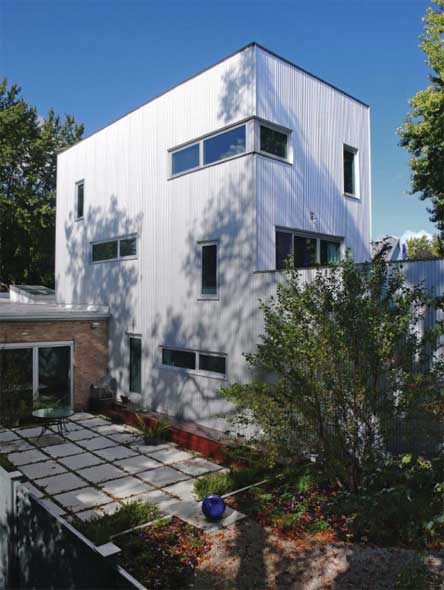 3811 N. Ravenswood | Chicago | 60613
Architect: John Ronan
Built 2007; 3-bedroom, 3-bath, 4500 square feet
An existing commercial building is re-adapted as a loft residence for a photographer or artist couple. The existing structure is hollowed out for studio and living space that opens onto a rear garden space formed by a new three story volume clad in metal siding, housing bedrooms and a den.
A new skylight cut into the existing roof brings daylight into the studio/living space at grade; materials include a ground and polished concrete floor, glass and white corian. An entry volume, separated from the existing shell with tempered glass, is neatly inserted into the loft to create two studio areas within the larger space, one for photography and the other for art. In the new construction den/bedroom area to the rear, lower ceilings and natural materials are used to differentiate the character of the addition. Upstairs, the master bedroom leads out to a deck over the garage, which looks down upon the garden space at grade.
Images by Dave Jordano Photography.