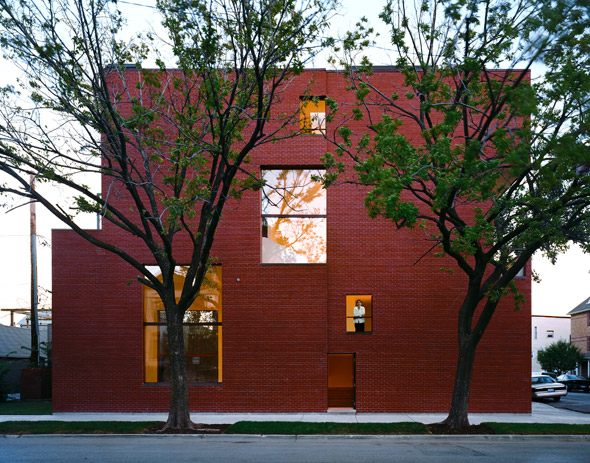 1737 W. Ohio St. | Chicago | 60622
Architect: Zoka Zola Architecture + Urban Design
Built 2002; 3-bedroom, 2.5-bath, 3000 square feet
Built on an undersized Chicago lot, the design for this 3,000-square-foot residence and home for architect Zoka Zola and her family explores concepts of "opening"—spaces that open into one another for a series of continuous transitions, as well as balconies, terraces, and windows that open the interior of the house to the street.
The building's design was also influenced by Chicago's building code, which allows a single-family home of no more than two stories to have only one stairway, and to be wood frame construction. The code defines the basement as habitable space of more that 50% at level more than 4′ below ground. Therefore, the whole area of garage, studio, mezzanine, and stairs counts as basement floor, and the building is only two stories high.
The house, which cost $183 per square foot to build, is clad in orange brick, the same color as most of the buildings surrounding it. In this way the main difference between it and the other buildings—its degree of its openness—is understood more easily.
Constructed of wood frame wall composition, the house is heated with radiant floor heating, while cross ventilation allows for decreased use of air conditioning. It took the architect and homeowner one year to find the site, one year, to design the house, and one year to construct it.